Windshield Wiper
Windshield Wiper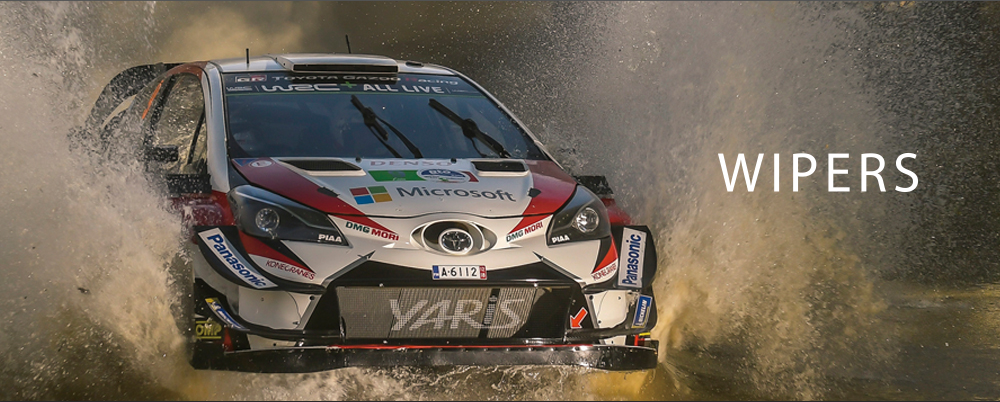 WHY PIAA WIPERS?
Durable: Silicone rubber lasts at least 2x longer than traditional blades
Performance: Silicone compound promotes water beading and quiet operation
Refillable: AeroVogue and Super Silicone wipers accept Silicone refills
Better Value: Long-term costs are lower due to outstanding durability and refill capability
PIAA windshield wiper blades are made with silicone rubber, which ensures greater visibility by coating the windshield with silicone to promote continuous water beading in inclement weather. The effect is similar to popular windshield coatings but without the hazy side effects. Water beads up into droplets at low speeds that are easily removed by ordinary wiping. At higher speeds, wind pressure pushes the water off the windshield, often without even requiring wiper use.
The silicone rubber is also twice as durable as traditional rubber, allowing them to perform better over a longer period of time. Plus, the Aero Vogue and Super Silicone blades are refillable with our wiper refills.
PIAA wiper blades maintain a sharp, clean edge and offer better wear resistance in all climates.
PIAA WIPER WARRANTY 100% Satisfaction Guaranteed
PIAA Corporation, USA ("PIAA") warrants the Super Silicone Wiper Blades to be free from defects in workmanship and materials under normal use for one year from the date of purchase.
Exclusions
This Limited Warranty specifically excludes damage resulting from "acts of nature", misuse, abuse, neglect, alteration, modification, improper installation. The silicone rubber is considered a consumable and is therefore excluded from the provision of the Limited Warranty. Except for the Limited Warranty stated above, there are no warranties of PIAA products or any part thereof, whether expressed or implied. Any implied warranty of merchantability or any warranty of fitness for a particular purpose is expressly disclaimed. Some states do not permit the disclaimer of implied warranties.
Repair or Replacement
If a PIAA Super Silicone Wiper Blade is suspected of being defective, it must be returned to an authorized PIAA dealer for warranty inspection. Removal, installation, or reinstallation costs are not covered by this Limited Warranty.